Edinburg UFO Festival
August 11 @ 7:00 pm

-

11:00 pm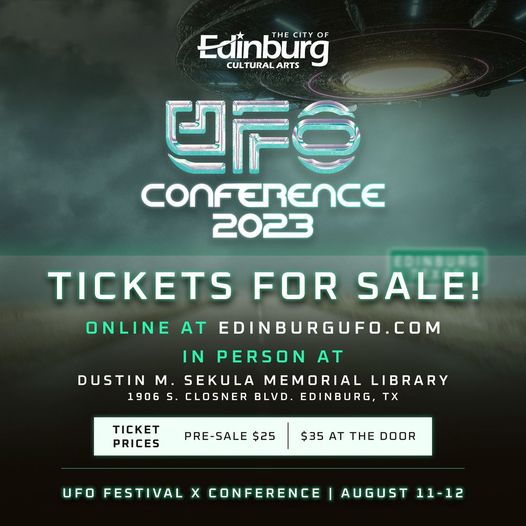 THE ANNUAL EDINBURG UFO FESTIVAL IS 3RD RANKED IN THE UNITED STATES AND 3RD IN THE WORLD. THIS THREE-DAY FESTIVAL WILL INCLUDE CONFERENCES BY CELEBRITY UFO SPEAKERS FROM SHOWS LIKE ANCIENT ALIENS AND THE VORTEX; A FESTIVAL FULL OF ACTIVITIES LIKE A PLANETARIUM, TIN FOIL HAT STATION, VENDORS, AUTOPSY ROOM, COSTUME CONTESTS, AND AN "OUT OF THIS WORLD" LASER LIGHT SHOW. THE UFO FESTIVAL WILL ALSO INCLUDE FOOTAGE OF UFO SIGHTINGS IN THE RIO GRANDE VALLEY.
THE FESTIVAL WAS INSPIRED BY AN INCIDENT IN 1966 IN NORTH EDINBURG, WHERE NINE WITNESSES SAW A FLYING OBJECT STRIKE THEIR VEHICLE. THE TRUTH IS OUR HERE.
THE ONE-OF-A-KIND FESTIVAL IN SOUTH TEXAS PROMISES TO DELIVER A UNIQUE EXPERIENCE BEGINNING WITH AN OPEN INVITATION FOR COSPLAYERS TO PARTICIPATE IN A COSTUME CONTEST. THE FUN-FILLED FAMILY-FRIENDLY FESTIVAL WILL TAKE PLACE AT THE CITY OF EDINBURG'S CITY HALL COURTYARD, AUGUST 11TH STARTING AT 7:00 PM, WHERE MUSIC, FOOD, SHOPPING, AND ENTERTAINMENT OF LIGHTS AND SOUND WILL TELEPORT YOU "OUT OF THIS WORLD". THE FESTIVAL IS FREE AND OPEN TO THE ENTIRE RIO GRANDE VALLEY.
ON SATURDAY, AUGUST 12TH, THE FESTIVAL WILL HOST UFO CELEBRITY SPEAKERS WHO WILL TRAVEL TO EDINBURG TO SHARE THEIR INVESTIGATIVE WORK ON THE UFO PHENOMENA AND SHARE THEIR EXPERTISE AT THE REGION ONE EDUCATION SERVICE CENTER STARTING AT 9:00 A.M. CONFERENCE TICKETS ARE BEING SOLD AT THE DUSTIN MICHAEL SEKULA MEMORIAL LIBRARY AND ONLINE. TICKETS ARE NOW ON SALE. TICKETS TO THE CONFERENCE START AT $25 BUT WILL INCREASE IN PRICE AS THE CONFERENCE APPROACHES. FOR MORE INFORMATION ABOUT THE UFO SPEAKERS LINE UP, PLEASE VISIT WWW.EDINBURGUFO.COM OR CALL US AT 956-383-6246.
THIS IS ANOTHER GREAT PROGRAM BROUGHT TO YOU BY THE EDINBURG LIBRARY & CULTURAL ARTS DEPARTMENT. FOR MORE INFORMATION CONTACT THE SEKULA MEMORIAL LIBRARY AT 956-383-6246 OR VISIT WWW.EDINBURGARTS.COM